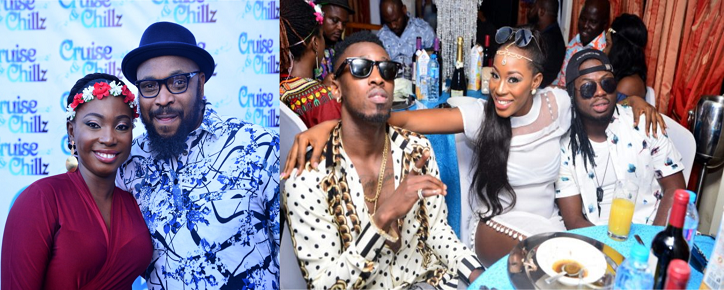 Qtaby events held the 2nd Edition of their Signature Boat Cruise Business & networking event for celebrities, media icons & CEOs last weekend at the Prest Cruise Lekki Phase 1, Lagos.
The exclusive star-studded event was hosted by eccentric VJ Denrele Edun and world-famous Olajumoke Orisaguna. Music was served by DJ Nana and a Business talk by Onimisi Adaba, Cordinator of the Men's Room Project/ GM Coolfm, Wazobiafm& Nigeria Info.
The highlights of the high profiled event included Green Carpet, Barbeque, Music performances, Comedy, Belly dance by Egyptian model Eissa and the official Launch of the Three Thrones Mega Concert with a thematic dance & fireworks.
Guests at the event included: GM Sony Music West Africa, Chairman of 1960 Bet, Alhaja Suleiman Adeitoro: C.E.O Right Entertainment, Mr. Tony Prest: Owner of Prest Marine, Orezi, Daddy Freeze of Coolfm, Bassey of BBA, Egyptian Model RandaEissa, Jennifer Eliogu, Alex Okoroji, Mrs. Okoroji: Wife of Tony Okoroji of COSSON, Funny Bone, Yaw of Wazobiafm, Lolo1 a.k.aAdaku, Dr. Amir, McIcewater of Ekofm/Traffic Radio, OTB of Naijafm, Super Prince of Cityfm, a host of media influencers e.t.c
See Some Pictures Below
This event doesn't have any galleries that can be viewed