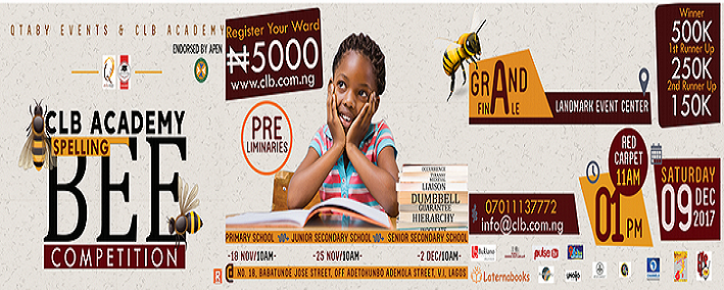 CLB Academy a subsidiary of Centre for Law and Business, in collaboration with Qtaby Events presents CLB Academy Spelling Bee Competition 2017, a competition aimed at encouraging academic excellence and a healthy competitive spirit amongst primary and secondary school students.
The primary objective of the competition is to improve syntax and semantics in students and help them cultivate a healthy reading habit as it encourages to them improve and display their vocabulary and spelling prowess.
Categories for this Competition are as follows:
Primary School (Prys 4-6)
Junior Secondary (JSS1-3)
Senior Secondary School (SSS1-3)
The Preliminary stages of the competition will hold at the Governance Hall of Centre for Law and Business; No 18, Babatunde Jose Street, off Ademola Adetokunbo Street, Victoria Island, Lagos on Saturdays, of the 18th, 25th of November and 2nd of December, 2017 respectively while the Grand Finale will take place at The Landmark Event Centre Oniru, Lagos on Saturday, December 9, 2017. The Grand Finale will feature 9 finalists who will compete against each other from all categories. The winners will be rewarded with N500, 000, N250, 000 and N150, 000 respectively in scholarships as well as cash prizes and gift items from our partners.
The Jury for the Competition include personalities and intellectuals from various fields such as Mrs. Folasade Adefisayo – Educationist, Chief Executive, Leading Learning Ltd, Mr. Ronald Cilliers – Principal, Greenwood House Schools, Ikoyi, Dr. Yolanda George – David, (OAP at Inspiration 92.3FM & Founder, Aunt Landa Bethel Foundation), Mr. Steve Onu a.k.a Yaw – Actor, Comedian & OAP at Wazobia 95.1FM Lagos, Ms. Victoria Nkong – CEO Qtaby Events, Mr. Efe Omoregbe – CEO Buckwyld Media, Dr. Tunji Abimbola – Education Consultant, Member Governing Board and Acting Principal, Day Waterman College, Ms. Pai Gamde – Acting Head of Corporate Affairs Nigerian Stock Exchange.
Get set for an exciting season as CLB Academy Spelling Bee Competition 2017 brings together some of the most intelligent children in Nigeria, showcasing Nigeria's future leaders.
Registration Fee: N5,000 for all categories
Entry opens on Monday 2nd October, 2017 and closes on Friday 10th November, 2017.
To register,
STEP 1 – Fill the Form by Clicking Here
STEP 2- Pay registration fee into the following account:
Account Name: CLB Limited
Account Number: 5100029334
Bank: Heritage Bank
STEP 3 – Scan Bank Teller and mail to info@qtabyevents.com, info@clb.com.ng OR neatly snap and WhatsApp to 07011137772 OR Screen Grab your Transfer Notification and WhatsApp to 07011137772
Alternatively, you may pick up the Registration Form at No. 18, Babatunde Jose Road, off Adetokunbo Ademola Street, Victoria Island, Lagos OR at 902B, Gbolahan Owolabi Close, Opp. Zenith Bank, Ojodu-Berger, Lagos, Make Payment, fill the Hard Copy form and submit or E-mail to info@clb.com.ng or info@qtabyevents.com
NOTE – Completed hard copy registration forms and bank tellers MUST be submitted AT LEAST 3 days before Preliminary Stages commence.
For further enquiries on entries, registration and partnership please call 07011137772, 08034022967 or write us at info@qtabyevents.com or info@clb.com.ng
CLB Academy Spelling Bee Competition 2017 is endorsed by APEN (Association of Private Educators in Nigeria)  
This event doesn't have any galleries that can be viewed