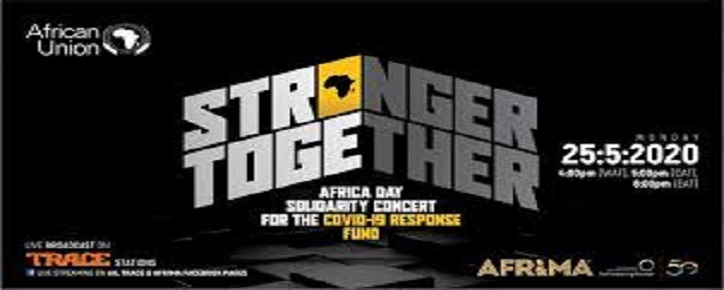 …FEATURING 2BABA, BUSISWA, SAKORDIE, SALIF KEITA, RUDEBOY, BECCA, AWILO LOGOMBA, TOOFAN, MASTER KG, SALATIEL, DJ SPINALL, MASTER KG, AHMED SOULTAN, CHIDINMA, DAPHNE, AMINUX, KANVEE ADAMS, HIRO, BETTY G, NADYA SHANAB, EDDI KADI AND MANY OTHERS.
In commemoration of this year's Africa Day, the Africa Union, (AU) and the All Africa Music Awards (AFRIMA) hosted a live virtual Solidarity Concert for the African Union COVID-19 Response Fund, under the theme: Health Security in the Context of COVID-19 and tagged #StrongerTogether which was co-produced by Qtaby Events and was broadcasted on TRACE Television, African Independent Television and Social media platforms across Africa on Monday, May 25, 2020, at 16.00 hours (WAT).
The Africa Day #StrongerTogether Solidarity Concert was aimed at inspiring action with key messages on the prevention, protection and response measures to contain CoronaVirus. The Concert leveraged on the power of music and the crucial role of African artists in advocating for the curb of COVID-19 on the continent as well as galvanize solidarity for financial and in-kind contributions to the Africa COVID-19 Response Fund.
The Virtual Concert was hosted by the British-Congolese Comedian, actor and philanthropist, Eddie Kadi; Nigerian singer and songwriter, Chidinma and Cameroonian television host and entrepreneur, Pamela Happi (Miss P). The trio who anchored the concert left the viewers thoroughly entertained by showcasing the pan-African spread of the continent's music talents and delivering high tempo performances by the artistes at different locations across Africa and the diaspora.
Superstar African artistes who performed live at the Africa Day 2020 #StrongerTogether Solidarity Concert include 2face Idiba (Nigeria); Sarkodie (Ghana); Aminux (Morocco); Toofan (Togo); Busiswa (South Africa); Becca (Ghana); Betty G(Ethiopia), Salatiel (Cameroun), Hiro (DRC); Rudeboy (Nigeria); Master KG (South Africa), Nikita Kering (Kenya).
Others were Salif Keita (Mali); Nadya Shanab (Egypt); Kanvee Adams (Liberia), DJ Spinall (Nigeria); DJ Moh Green (Algeria); Awilo Longomba (DRC); Ahmed Soultan (Morocco); Pape Diouf (Senegal); Daphne (Cameroon); Lizah James (Mozambique); and Naiboi (Kenya) among others.
The #StrongerTogerther Africa Day Solidarity Concert was aired live on Trace TV channels on DSTV, Nigezie TV, Goldmyne TV, WAP TV, AIT and other partners' stations, while also live-streamed on AU, TRACE and AFRIMA Facebook pages and other social media handles.
This event doesn't have any galleries that can be viewed