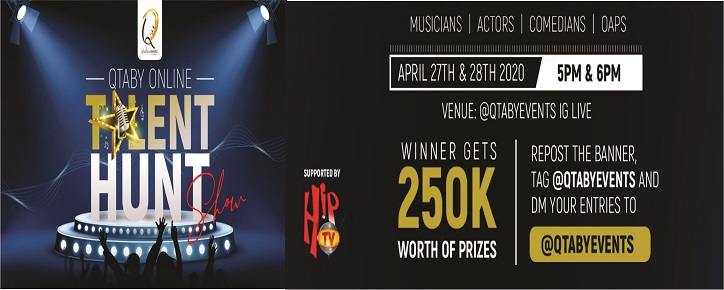 Qtaby Event launches a 1st of its kind Talent Hunt amidst Covid-19 pandemic lockdown.
Nigerians foremost events production and Talent Management Company Qtaby Events has launched an online Talent Hunt Show which will take place on Instagram and Youtube.
Victoria Nkong the company C.E.O explained that the event is aimed at keeping the youth creatively engaged online during this pandemic to take their minds off negativity while giving them exposure for their different talents & helping them start a career.  The Online Talent Hunt Show is opened to aspiring MUSICIANS, COMEDIANS, ACTORS AND OAPs and she added that the competition is open to everyone irrespective of your nationality & geographical location.
The judges for the event are as follows:
International French Artiste: Hiro from France
Music sensation and Record Label Executive: Harrysong from Nigeria
Media Personality: Denzel Mwiyeretsi from Uganda
Ace Actor: Kenneth Okolie from Nigeria
Ace Comedian: MC Tagwaye from Nigeria
Media Executive & Talent Manager: Efe Omorogbe
Ace Actress: Adebimpe Akintunde from Nigeria, just to mention a few.
The event will be hosted by Ghanaian media sweetheart; Jackie Acquaye
The winning prizes include cash and gifts worth up to N250,000 as well as deals from record labels and production house.
Registration closes on Monday April 27th by 5pm.
Follow @qtabyevents on Instagram for more information.
This event is proudly supported by Hip TV & Norland Influencers
This event doesn't have any galleries that can be viewed